I am Kwabena Obeng Asiama, chair of the FIG Young Surveyors Network. Having lived on three continents, Africa, North America, and Europe, I am always excited to jump into an international environment. Hence I was very happy to take part in the 4th Young Surveyors European Meeting in Amsterdam in 2016. Since then, I have been involved in the activities of the network, meeting and working with young surveyors all over.
One of the strengths of our network has been the opportunity to provide an environment for young surveyors from different cultures, with different academic backgrounds and professional experiences to discuss the issues facing our planet, to plan for a resilient future, and contribute energy to achieving these goals. That is the essence of our network – the energy, initiative, drive, and open-mindedness of our generation to contribute towards our Common Future.
It's a great honour to be chair of our network, and I look forward to working with you towards the future of our network and our profession. The Future is Ours!
Dr. Kwabena Obeng Asiama, Chair, FIG Young Surveyors Network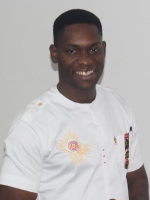 Hello,
I would like to begin with saying that I believe in the power of FIG Young Surveyors Network. I have been an active member since 2014 and it has been a great opportunity to collaborate with Young Surveyors from all around the world. Being a part of Volunteering for the Future with colleagues is a chance for us to have new points of view, explore different cultures and share experiences.
The world is changing, and our profession is adapting and improving to the change every day. As Young Surveyors, our intention is to stay up to date, develop the network by collaborating, understand the importance of sustainability and raise more awareness on that.
I am excited for my new role as Vice Chair of FIG YSN and to be working with our Chair Kwabena for the next two years (along with my role representing FIG Young Surveyors European Network at Council of European Geodetic Surveyors (CLGE)). I look forward to the future of FIG Young Surveyors Network. We will work to stay connected within the regions, keep the current projects, and start valuable initiatives.
Ferah Pırlanta Köksal, Vice Chair, FIG Young Surveyors Network