News in 2021

VCSP - Wisdom Workshop
3, December, 2021, Online
Volunteer Community Surveyors Programme - Wisdom Workshop
Volunteer Community Surveyors Programme (VCSP) invites to this year's Wisdom Workshop. The meeting is scheduled to take place online Friday December 3, 2021 starting at 0700 UTC.

Read the flyer here.
What is a Wisdom Workshop?
Wisdom Workshops are held one-to-two times per year, and are an opportunity for Young Surveyors who are interested in applying for an in-Country deployment and/or gaining humanitarian surveying skills to meet, network and hear from industry leaders as well as learn useful technical skills. Wisdom Workshops are a great way for Young Surveyors to get hands-on experience with the tools that VCSP Partners use as well as a unique opportunity to meet peers from around the world and form collaborations and professional relationships.
This year's Wisdom Workshop
With increased participation in the drive towards a more secure tenure for all, it becomes pertinent to identify the challenges preventing tenure security, harness existing solutions and disseminate approaches to identifying such solutions amidst the agents of change. Young Surveyors of the FIG are a major stakeholder in ensuring the realisation of a secured tenure system for all. Notable amidst its fora of influence is the Volunteer Community Surveyor Program; where Young Surveyors volunteer their skills to map the world to a better place. The in-Country path of the VCSP supports pro-poor land registrations in different countries of the world. The Wisdom Workshop path of the VCSP is poised to equip young surveyors with relevant skills necessary to act as agents of significant change while volunteering their skills, within and beyond the in-Country deployments.
This year's Wisdom Workshop aims to provide participants with skills necessary to promote tenure security in the face of legal, institutional and social challenges. Priority will be given to places where deployments will likely be made in the quarter 3 of our year 2 program (February - April 2022).
When?
The workshop will be held on Friday December 3, 2021 starting at 0700 UTC. The programme is available in the flyer.
Registration
Please submit your application for attendance of this Wisdom Workshop here . The deadline for applications is Monday 22 November 2021. Successful applicants will be advised by email by Friday 26 November 2021. Registration cost is free for successful applicants, with the option to donate to FIG VCSP to support our future initiatives.
Applications to attend the workshop close on 22nd November, and then the team will assess applications as there are limited spots. Successful applicants will be notified on Friday 26 November, and from there they will have time to complete the online MOOC before the event.
To read the full flyer here.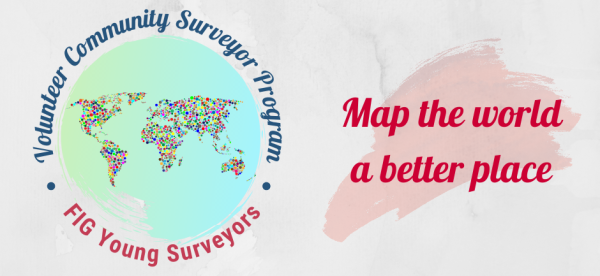 For more information about VCSP click here.
For more information about Young Surveyors click here.
Nanna Jørgensen
November 2021