FIG Honorary Ambassador

Honorary Ambassadors
At the General Assembly in Sofia, Bulgaria in 2015 FIG Council introduced the Honorary Ambassador title as a special consideration to partners and other stakeholders who have done a considerable work for FIG over many years and who have materially assisted the development and promotion of FIG and the surveying profession.
Dr. Clarissa Augustinus, UN-Habitat GLTN
| | |
| --- | --- |
| Clarissa Augustinus receives a framed certificate by FIG President Chryssy Potsiou | Dr. Clarissa Augustinus, UN-Habitat, has worked closely with FIG for many years through her position in UN-Habitat and since the establishment of the Global Land Tool Network (GLTN). FIG Council wanted to acknowledge the longstanding cooperation with Clarissa Augustinus that has lasted throughout many councils and FIG presidents. Clarissa Augustinus is founder and Lead on the Global Land Tool Network. Clarissa Augustinus is in June 2015 standing down from UN-HABITAT. |
---
Mr. Paul Munro-Faure, FAO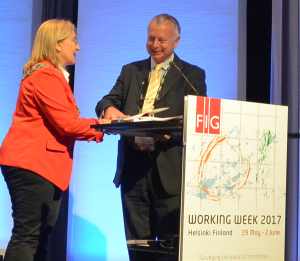 FIG President Chryssy Potsiou hands over the certificate of appreciation
to Paul Munro-Faure during the Opening Ceremony of the FIG Working Week 2017
On 29 May 2017, FIG Council brought to the General Assembly the appointment of Paul Munro-Faure as the second appointed FIG Honorary Ambassador. During the Opening Ceremony of the Working Week on 30 May the certificate was presented to Mr Paul Munro-Faure.
Paul Munro-Faure has for many years had an active role within FIG, both in commission 7 and by linking close ties between FIG and FAO, especially in the work on the Voluntary Guidelines, VGGT. Paul Munro-Faure stepped down from his position as deputy director of FAO in Spring 2017.
Read the acceptance speech of Mr Munro-Faure
---
©2023 FIG