International Federation of Surveyors
Fédération Internationale des Géomètres
Internationale Vereinigung der Vermessungsingenieure

FIG Newsletter – June/July 2021
---
Dear Colleague,
This newsletter seems to be the FIG reporting newsletter... reports from the e-Working Week, the General Assembly, the Young Surveyors conference... all virtual events, organised and held with no prior knowledge on how to do this. The post-surveys tell us that we did some of the right things and that the events were successful and better than expected - no-one was however sure about what to expect! The survey and also comments during the event however also tells us that most are looking forward to a "new normal" where it will be possible again to meet in person. A very big thanks to the Dutch local organisers, to all who participated, to all sponsors and partners who made this event possible, to all who took part in the organisation and for all the many good ideas. Please have fun with these reports and I hope you will enjoy reading them.
Check also the changes in the FIG events for the coming years and other updates from the General Assembly. Mikael Lilje, Sweden, was re-elected Vice President of FIG and Kwame Tenadu was elected as the second Vice President for the term 2021-2024. A big thanks to all three candidates and their supporting organisations.
Not all in this newsletter is about the FIG Working Week... please also check out two interesting new books and a new publication - and if you have not yet watched the article of the month - yes watched... do not miss this special opportunity!
---
NEWS FROM FIG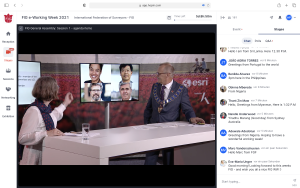 On 20 and 25 June four FIG General Assembly sessions were held - each with a different topic showing various sides of FIG, and the idea and hope was to create lively and inclusive sessions. We have learned that it is possible to manage online voting, that 73 official delegates from member associations registered and that almost 300 persons attended the sessions, that it is possible to include breakout discussions in a General Assembly, that some attended although it was dark night in their place, ...
Read the report with the results of the elections and watch the recordings of the sessions
---
FIG e-Working Week 2021 report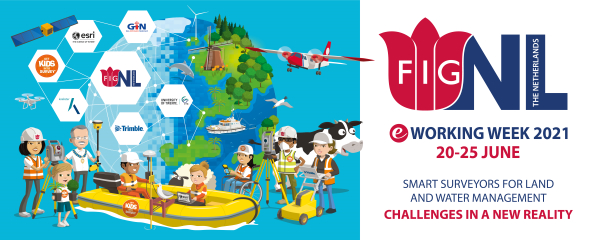 Well, now we have also tried this - a fully online event. 1301 participants met virtually, all with the common purpose to attend in the over 80 sessions and other activities that took place during these 6 packed days. These 1301 participants came from in total 110 countries.
Read the report
---
Young Surveyors Conference - report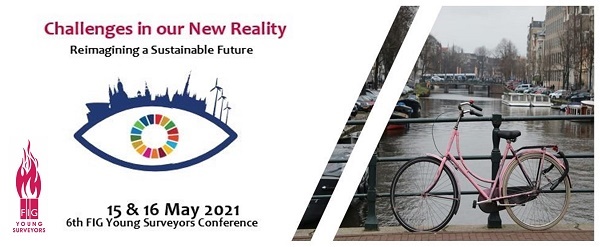 Over two days the 6YSCe was held in four regional programmes covering the Africa and European Region, the South American Region, the North American Region, and the Asia and the Pacific Region.
Read the report
---
ANNOUNCEMENTS
New members
The following associations and organisations have become member during this past year: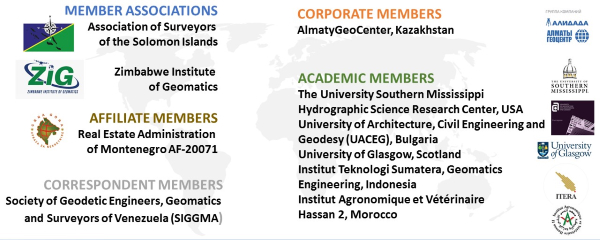 welcome to all!
---
FIG Congress 2022 has been moved to Warsaw, Congress 2026 will be in Cape Town, Working Week 2025 in Brisbane... Confused? Read on
Read more
---
Obituary
On 11 June 2021 Wally Youngs FIG Honorary Member passed away. Wally was secretary general during the Canadian term of office 1985-1987 and a vice president during the term of Finnish office 1988-1991.
Read obituary received from Kenn Allred
---
Article of the Month
Each month on FIG web site you can find a special selected paper called "FIG Article of the Month".
The Article of the Month in
July 2021 The Article of the Month July is not a paper but a video recording of one of the keynote session at the FIG e-Working Week 2021. Founder and President of Esri - Environmental Systems Research Institute, Jack Dangermond talks with FIG President Rudolf Staiger, about the impactful latest trends in GIS software technology, how they impact surveying and the FIG community as well as thoughts and considerations on the future of the profession. Read more and watch the video...
June 2021 is written by Walter Timo de Vries, Germany: Identifying which human aspects play a crucial role in land consolidation processes The article introduces and analyses how which human aspects play a role in land consolidation processes. It provides a short synopses of three research experiences. These experiences in land consolidation are described at different scales.
---
PUBLICATIONS
This FIG Report, which is no 77 in the series of FIG Publications is prepared by FIG Commission 8 - Spatial Planning and Development; Working Group 8.5 on African Water Governance. The report is addressing the challenges of water governance in urbanised areas in Africa. Lack of water is impacting the ecology, agriculture, and the general economy of most African nations. In addition, poor water governance results in inequitable access to freshwater and unsustainable water usage in many parts of Africa.
Read more
---
Primarily written for university leaders, but also thought-provoking and useful for others, this book combines expert knowledge, experience and reflections from senior leaders to distil collective leadership experiences. Authors are FIG Honorary Member Tom Kennie together with Robin Middlehurst.
Read more
---
FIG office has received this book from our Mexican member INEGI - the National Institute of Statistics and Geography, Mexico. This remarkable work tells the story of the National Institute of Statistics and Geography (INEGI), from the perspective of the role performed by information agencies in our societies and why professional indepencence is fundamental to fulfil their mission.
Read more and download the book
---
---
EVENTS
14 September 2021, Ramallah, Palestine - or online
Expert Group Meeting on Housing, Land and Property Rights in Palestine within the ambit of the project "Achieving Planning and Land Rights in Area C, West Bank, Palestine" implemented by the United Nations Human Settlements Programme (UN-Habitat), in partnership with the Land and Water Settlement Commission (LWSC) and the Global Land Tool Network (GLTN), and funded by the European Union.
Read more: https://arabstates.gltn.net/2021/07/15/expression-of-interest-for-participation-in-the-expert-group-meeting-on-housing-land-and-property-rights-in-palestine/
Expression of interest: Deadline for application 30 July 2021
21-23 September 2021, Hanover, Germany
Intergeo 2021 - Live + Digital, #INTERGEO21
Web site: www.intergeo.de/en/
26 - 30 October 2021, Brasov, Romania
"Smart surveying solutions for sustainable development symposium" organized by Romanian Surveyors Union in collaboration with Transilvania University of Brașov. The event will be organized with both on-site and on-line participation.
Event Website coming soon: http://www.sgr.ugr.ro
6-8 April 2022, Valencia, Spain
5th Joint International Symposium on Deformation Monitoring (JISDM 2022) in cooperation with FIG Commission 6.
https://jisdm2022.webs.upv.es
---
Kind regards,
Ms. Louise Friis-Hansen
Director
International Federation of Surveyors
Fédération Internationale des Géomčtres
Internationale Vereiningung der Vermessungsingenieure
International Federation of Surveyors
Kalvebod Brygge 31-33
DK-1780 Copenhagen V
Tel. + 45 3886 1081
Direct: + 45 9391 0810
louise.friis-hansen@fig.net
www.fig.net
FIG Working Week 2024, Accra, Ghana
FIG Working Week 2025, Brisbane, Australia
FIG Congress 2026, Cape Town, South Africa
Subscribe monthly FIG Newsletter at: www.fig.net
---
The monthly Newsletter is mailed to all members, commission delegates and all interested partners. FIG offers the Newsletter to all members of member associations and other interested in FIG. If you don't already get your copy you can order it now at: www.fig.net.

FIG Newsletter brings you latest information about FIG and its activities. The information referred here is in full length available on the FIG web site. Thus the Newsletter is produced to inform you what has happened recently and what interesting things are going to take place in the near future. The FIG Newsletter is circulated monthly or bi-monthly by e-mail. The referred articles are in English and written in a way that you are able to extract them to your national newsletters or circulate to your members and networks.

If you do not want to receive the newsletter in the future, please click here to unsubscribe from the mailing list
.
---
FIG on Social Media:




Remember that you can follow FIG on the social media.
If you have not already joined, join us today:
Facebook: https://www.facebook.com/internationalfederationofsurveyors
Twitter: https://twitter.com/FIG_NEWS
LinkedIn: http://www.linkedin.com/groups?gid=2669121&trk=group-name
Instagram: https://www.instagram.com/figsurveyors/
---