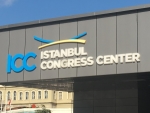 The venue is Istanbul Congress Center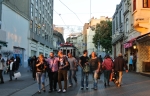 The lively Istanbul city center - a city that never sleeps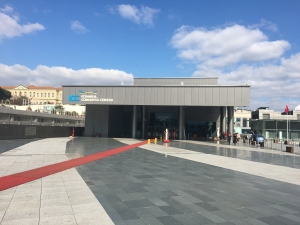 Istanbul Congress Center is situated in the city centre of Istanbul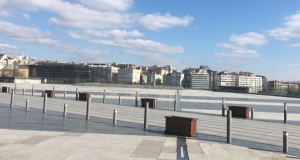 There are many hotels nearby the Istanbul Congress Center and it is located near the famous Taksim Square
The Congress is organised by FIG and the Turkish Chamber of Survey and Cadaster Engineers (CSCE) and will take place 6 – 11 May 2018 in Istanbul, Turkey.
We are certain that Istanbul will exceed in meeting all requirements and expectations for a memorable and successful Congress. This geographical area has not hosted any FIG Congress and General Assembly before. Istanbul is one of the most impressive and attractive cities at the crossroads of Europe and Asia, where unique beauties of the West and the East come together.
The overall theme of the large 4-year Congress is:
Embracing our smart world where the continents connect: enhancing the geospatial maturity of societies
The four day conference will offer an exciting and variated choice of technical sessions, technical tours and of course also the opportunity to explore the wonderful city and surroundings of Istanbul as well as the famous Turkish hospitality.
Register now
Register here for the Congress 2018.
Your easy steps to register:
When you register before 20 February 2018 you are entitiled to the Early Bird Registration of 650 €
Pre-events
Three exciting Pre-events are offered:
4TH FIG Young Surveryors Conference
Reference Frames in Practice Seminar
BIM for Surveyors Workshop
More information at: http://www.fig.net/fig2018/
Social events and tours
The Congress is not only about technical sessions, learning and presentations. Also very important is the networking part of the FIG Congress. The Welcome Reception is included in the registration fee, and it will be possible to meet old colleagues/friends from all over the world and to make new acquaintances especially if you participate for the first time. A traditional Turkish Dinner is organised at the Military Museum, and the festive Gala Dinner will take place on a Boat on Bosphorus. Read more
Further to this there are both exciting technical tours and social tours not to miss.
Exhibition and sponsorship
Secure your stand at exhibition - the stands are rapidly sold out.
The exhibition will be built up in the hallways of the session rooms and will therefore be well visited throughout the conference days. Read more: http://www.fig.net/fig2018/exhibitors.htm
Read more about your sponsorship opportunities at:
http://www.fig.net/fig2018/sponsors.htm
Conference information
Stay updated – visit the congress site: www.fig.net/fig2018 which is updated regularly.